Dear Members of the Air League of Monaco
Please find below our upcoming events for October and November:
Tuesday 10th October 2023 6pm dinner with guest speaker Nikhil Sachdeva, Principal and Global Lead for Sustainable Aviation at the Leading Global Consultancy Roland Berger.
Specifically, Nikhil will discuss the subjects below:
The importance and urgency of climate action in aerospace and aviation
The potential solutions available, broken down by type of aircraft / flight profile subregional, regional, narrowbody, widebody (covering advanced conventional, electric, hybrid, hydrogen, and the role of sustainable aviation fuels and how these are expected to enter the global fleet in the future)
A deepdive into the "only" available electric aircraft today (Pipistrel Velis E), including some material from the manufacturer and where it can be flown in the vicinity of Monaco today
What airlines and aerospace companies are working on today / can do today to accelerate the transition
The role that new pilots and engineers can play in this transition
Wednesday 8th November 2023 6pm dinner with guest speaker Justin Hughes former RAF Red arrows pilot. Justin will describe his career in aviation from Tornado Pilot patrolling the skies of Bosnia to senior manager of a global pilot training organisation. Combined with having flown over 250 displays as Executive Officer on the Red Arrows, he is able to offer rare insights into the inner workings of the world's premier formation aerobatic team, and the career options for any aspiring pilots.
The donation to the Air League of Monaco for attending the above mentioned dinners is 30 euro for adult members and 15 euro for young members paid by bank transfer.
Please RSVP to Margarita at Margarita.Profyri@stelios.com
On the 19th of September 2023 Mr Chris Leach from Air Charter Service joined us as our guest speaker. Chris and his wife Tina built the largest Air Charter Service business in the world and still own a majority in shareholding. Chris during his speech gave us an exciting peek into how the private Jet Charter world works in practice and shared a few stories of his adventures throughout the years.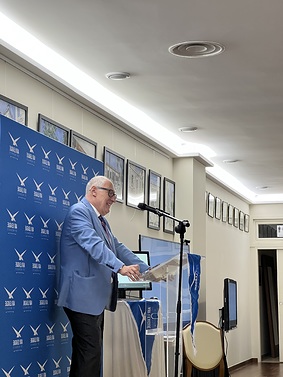 With best wishes
Sir Stelios Haji-Ioannou
Patron and President
Air League of Monaco
Address: 8 Le Ruscino, 14 Quai Antoine 1er, Monaco MC 98000
Tel: +377-9880-1010